TechGate:
Effective MRI safety warning signage system that keeps patients and MRI technologists safe.
TechGate allows technologists to focus on the care of patients and efficient room turnaround rather than worrying about anyone entering the MRI room behind them. Easy to use and designed for the MRI environment, TechGate is deployed via push button remote control, providing an immediate physical restriction of access to all unauthorized individuals.
KEEP READING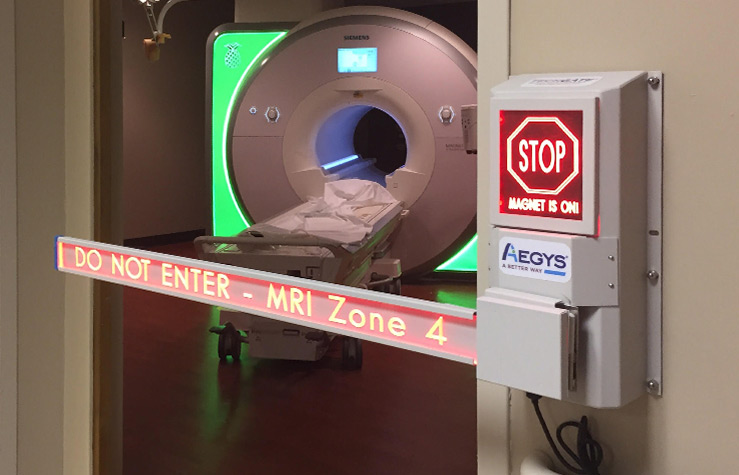 about ico
ABOUT:
Aegys is an innovative leader in the MRI safety industry.
Aegys is committed to providing innovative product and process solutions that enhance overall MRI safety and improve efficiency. Harnessing over three decades of healthcare, security, access control, risk management, legal and industrial process experience, Aegys delivers support utilizing a comprehensive approach that is uncomplicated and results driven. Reducing risk or exposure, improving performance and maintaining quality requires the ability to identify effectiveness while reducing inefficiency. In short, we're all about creating a better way.
LEARN MORE ABOUT US
comment ico
TESTIMONIALS:
"What a fantastic idea! I wish I would have thought of this! Tech Gate offers a solution to entry way protection that protects my techs, my patients and my equipment without impeding the workflow!! I saw this product at a WSRT convention and begin planning for purchase. As the MRI manager for a world class […]
Wendy Stirnkorb


MORE TESTIMONIALS
prospeak ico
PROSPEAK:
Excellent collection of documents focused on outlining best practices for MRI efficiency, throughput and patient satisfaction.  This effort conducted by the Ontario Ministry of Health and Long Term Care resulted in significant reductions in MRI …

Recent Study on the Extent of Tissue Heating Created Near a Metallic Suture Site As more and more medical devices and surgical apparatus are cleared for access to MRI - there is a continued concern regarding …

READ MORE