Testimonials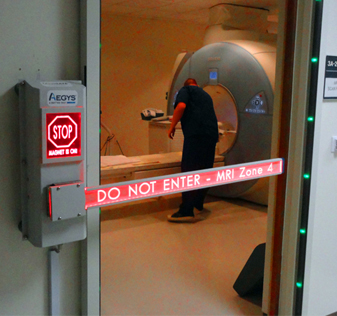 "It was a pleasure to have met you today. As you know, we all use the tech gate for MRI safety and it really works.
Most patients come right off the elevator look at the flashing lights and stop. With the amount of near misses as a tech this is an invaluable tool for us. At first, like the other techs, I thought it would slow down our already busy schedule. But the gate is so easy to use and I don't believe even slows down the workflow at all. I definitely feel much more secure with this gate when I'm in the room alone.
Its especially useful for patients who have family members who love to hover by the doorway while we set up their loved one, despite our instructions they always used to inch in the room or just come in the room. Now they understand , thanks to flashing red lights, that the magnet is always on!!
I really appreciate your invention, and wish you the best."
MaryBeth Schooley
NYC Technologist
"What a fantastic idea! I wish I would have thought of this! Tech Gate offers a solution to entry way protection that protects my techs, my patients and my equipment without impeding the workflow!!
I saw this product at a WSRT convention and begin planning for purchase. As the MRI manager for a world class health care system in the upper Midwest, seeing a product provide the protections Tech Gate offers while not impacting work flow was amazing! I shared the idea with my director who was impressed enough to ask for a quote! We budgeted for three for the 2014 fiscal year.
I recently moved into a new role with a university medical center in a metropolitan area. With a large MRI fleet in spaces that were designed 10-15 years ago, safety measures are challenging due to construction constraints. Tech Gate provides a barrier–entry way protection—in an urban level 1 trauma center environment, where access control is very important. As the incoming MRI Safety Officer, one of my suggestions to enhance MRI safety was the rapid installation of Tech Gates at each hospital MRI entryway. We will be purchasing 5 Tech Gates this fiscal year and are budgeting for 7 more for the next fiscal year for the outpatient and research magnets."
Wendy Stirnkorb


"The brightness of the TechGate stop sign and robotic LED arm is fabulous!"
Christina Bryarly
MRI Manager
Multicare Healthcare
Tacoma WA


"TechGate gives the MRI technologist a piece of mind as they attend to the patient. It is a simple and effective solution to prevent an unintended entrance into the MRI room. The product has an easy and simple installation and a it's effortless operation has no effect on our workflow. It is a well-designed product that has been universally accepted and endorsed by the technical staff."
Robert Day
Chief Operating Officer


"Thank you Steve and Joe. We love the TechGate at my OP facility. The LED lights are Awesome. I personally feel more secure about the safety of myself and others when my coworker has to step out of the dept and I'm alone assisting a patient on the table or administering contrast. If any MRI techs are interested in checking it out, I encourage you to go to the website "aegysgroup.com" and view the demo. The best part is there are "NO" annoying alarms going off. TechGate is definitely "A Better Way"."
Wendy Porter Callahan
Lead MRI Technologist
Greenville Health System